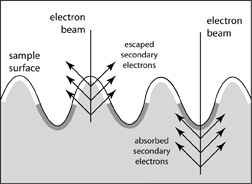 Diagram showing how the surface topography will affect the number of escaping secondary electrons.
What do secondary electrons tell us about the sample?
Because secondary electrons are very low-energy and can only escape if produced very near the surface, they give us information about the surface morphology and/or textures. Depressions in the sample will not allow as many secondary electrons to escape as a ridge will. Therefore, a secondary electron image will highlight these features.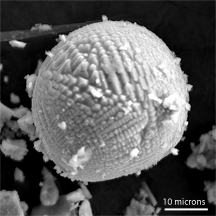 Secondary electron image of a magnetite nodule. Note the darker valleys and brighter ridges.