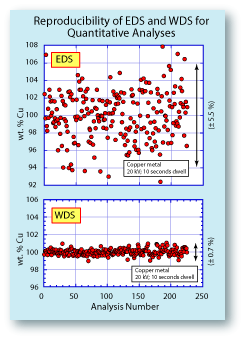 The second major problem with EDS systems is their low count rates and poor reproducibility. Typically a WDS system will have a count rate about 10x that of an EDS system. There are some EDS systems that can collect at a higher count rate, but they sacrifice even more on the energy resolution — their peaks are even wider.

To the left is a comparison of the reproducibility of an EDS system and a WDS system. The data were collected simultaniously, so the conditions under which they were collected were identical. The plots show that the EDS data had almost 8x the scatter of the WDS data. For serious quantitative analyses, the EDS data would not be acceptable. The spread on the EDS data could be reduced by counting longer, but that would also improve the WDS data.

Another advantage of the WDS system includes a lower detection limit. Most elements on the periodic table can be measured into the 0.01 weight percent range on a WDS system and into 0.1 weight percent range on the EDS system. Also, much better performance can be obtained for light element analyses (Be, B, C, N, O and F) on a WDS system. The count rates will be much better, peak overlap problems will be fewer, and reproducibility will be much improved compared to EDS.